A Statement From The Chief
Looking back over one hundred years ago, we can see that this department was built on a strong and dedicated foundation. Our predecessors set the course, paved the way, and set high standards for us to follow in public service. There were just a few at that time who had it in their hearts to answer the call of duty with heroism, bravery, and a burning desire to instill a sense of security to the public, which is essential to maintain the human spirit. They challenged us all, who came after them, to follow the path they laid before us.
Today, the Alexandria Fire Department has not only accepted that challenge, but has moved into an area so far beyond what their most vivid dreams could have ever been. Our department stands strong and proud, we have made great strides, and I truly believe, we are among the best in the nation.
Each member of the Alexandria Fire Department plays a significant role in the success of our operations, be it, Administration, Fire Suppression, Fire Prevention, Communications, EMS, Training, Maintenance, and Records Clerk. All display the dedication necessary to complete our mission.
Mission Statement
It is the mission of the Alexandria Fire Department, with honor, integrity, and one purpose, to serve the citizens of the City of Alexandria in their time of need.
We server with courage and dedication, which are essential to the health and safety of our community and the protection of our environment.
We are committed to our mission through firefighter teamwork, fire prevention and education, pre-hospital emergency services, communication and lifelong training and personal accountability
Function of the Fire Department
Fire protection for the City of Alexandria consists of: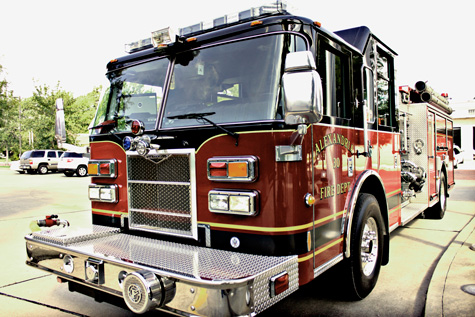 6 Engine Companies
2 District Chief Cars
1 Ladder Company
1 Elevating Aerial Platform Company
the Fire Prevention Office (investigation, inspection, and education)
a Fire Alarm and Dispatch, Maintenance, and an aministration division.
 The Department operates 3 fire suppression shifts, 24 hours continuously along with Fire Alarm receiving and dispatching.

Translated with Google™ Translate