ATRANS bus routes and times alexandria transit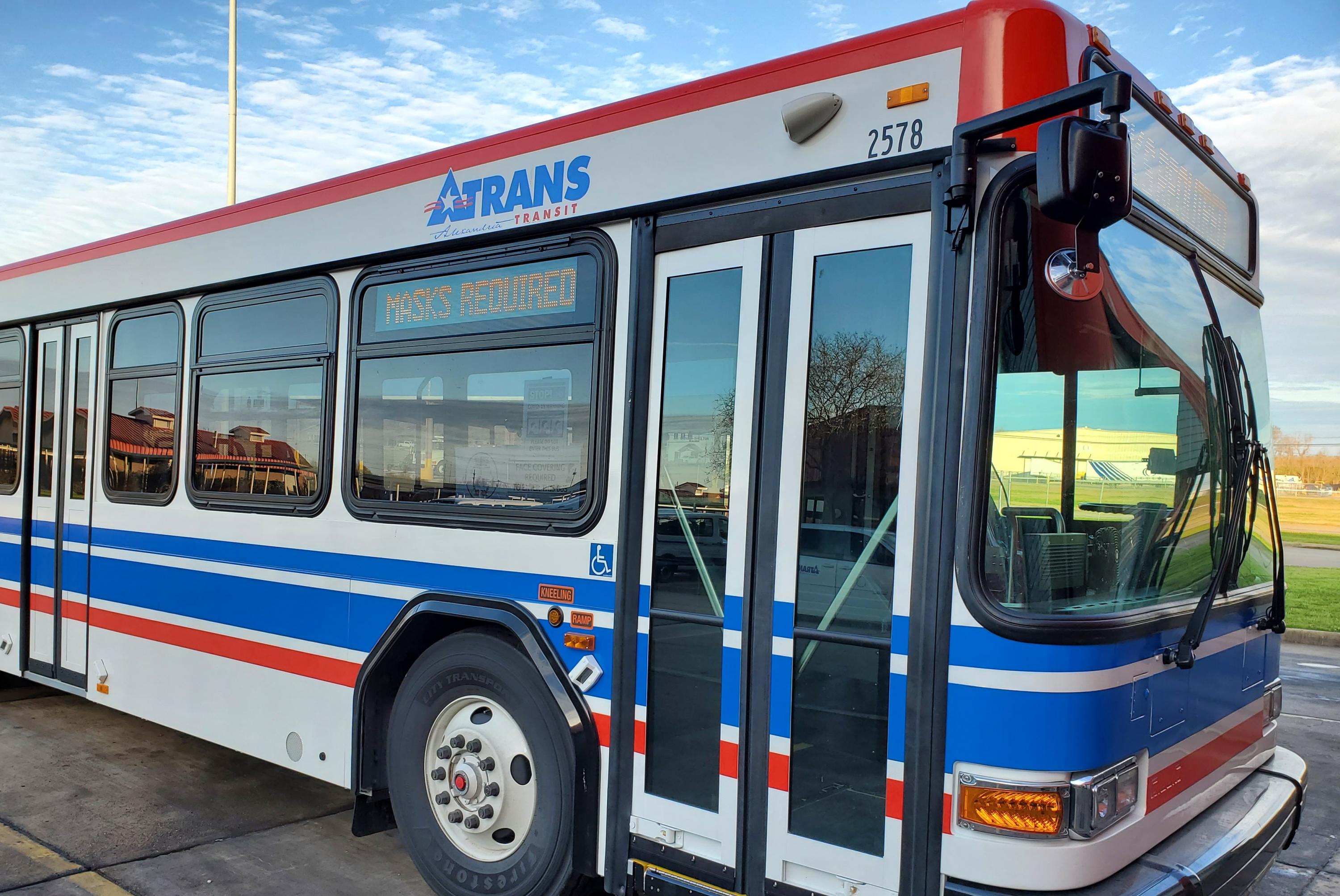 Service Announcements
Tuesday, July 13 Service Change: Service will be suspended at 5 p.m. due to street flooding. Service will resume as soon as roads are safe for travel.
Days of Operation
Monday - Saturday
Time of Service
6:10 a.m. - 6:00 p.m.
Night service begins at 6:00 p.m. and lasts until 10 p.m.  For route information, please call 441-6087.
Fare Structure
Please have correct change when riding
$.75 - Regular Adult Fare
$.35 - Children (1-13 years)
$.35 - Half-Fare Programs* 
Click here to Purchase Tickets Online
* Half-Fare Programs
Elderly: Any person 62 years or older
Disabled: Any person with a disability through an application process
Medicare: Any person possessing a Medicare Card pursuant to Title II/XVII of the Social Security Act
Bus Routes
Route Schedule (pdf)
COVID-19 Notes
On January 29, 2021, the Centers for Disease Control and Prevention (CDC) issued an Order imposing a mask requirement applicable to public transportation systems, rail, and van, bus and motorcoach service providers to mitigate the risk of COVID-19.  The CDC Order implements President Biden's Executive Order 13998, Promoting COVID-19 Safety in Domestic and International Travel, "to save lives and allow all Americans, including the millions of people employed in the transportation industry, to travel and work safely."
Science-based measures are critical to preventing the spread of COVID-19. Mask-wearing is one of several proven life-saving measures including physical distancing, appropriate ventilation and timely testing that can reduce the transmission of COVID-19. Requiring masks will protect America's transportation workers and passengers and help control the transmission of COVID-19. For more information, please see the U.S. Department of Transportation's Frequently Asked Questions. 
Additional Information
Bus Information: 318-441-6087
ADA Van Service: 318-441-6087
Atrans Bus Scheduling Information: 318-441-6087
City of Alexandria Louisiana ATRANS Title VI Program
Know Your Rights Under Title VI (pdf)
Translated with Google™ Translate