Community Services Division
Contact
Office of Community Services 
318-449-5225
CommunityServices@CityofAlex.com
Community Services Division Head
(318) 449-5225
Parks and Recreation
318-473-1130
---
2022 After School Program Registration
The City of Alexandria, along with the Rapides Parish School Board, offers an After School Program for students in grades 1-8. The free program will start Sept. 19, 2022, and run until the end of the school year in May of 2023. The program, which will be offered from 3:30-6:30 p.m. Monday-Thursday, includes homework help, tutoring, computer access and snacks for participants. Activities will be held at the Youth and Teen Center (former Boys and Girls Club building) at 1801 Sylvester Street, the Broadway Resource Center at 712 Broadway Avenue, Martin Community Center at 2301 Mill Street and the Bolton Avenue Community Center at 315 Bolton Avenue. Registration is required. Click here to download a registration form. Completed registration forms should be mailed to After School Program, P.O. Box 71, Alexandria, LA 71309 Attention: Community Services. Completed forms may also be dropped off at City Hall at 915 Third Street in downtown Alexandria during regular business hours (8-5 Monday-Friday).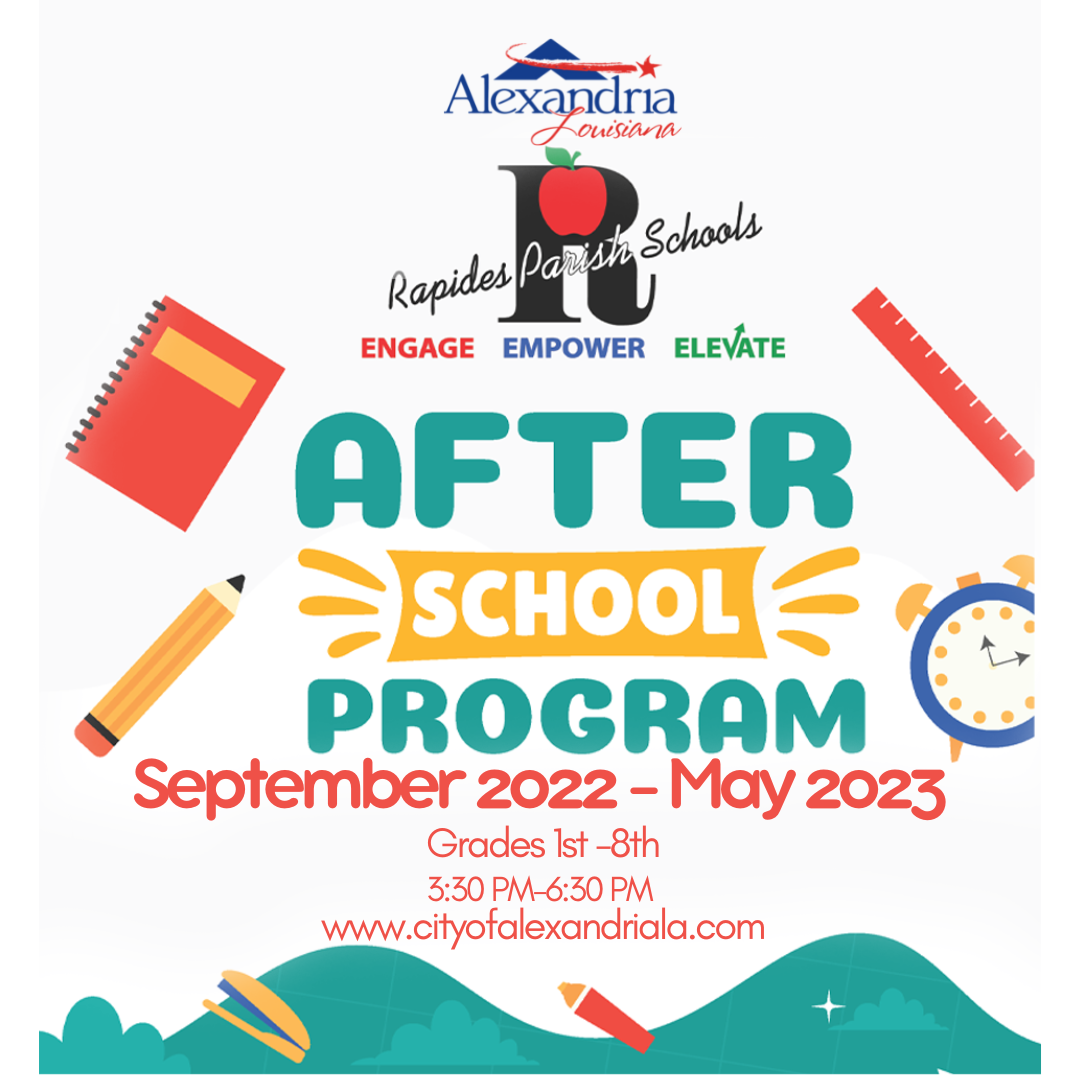 ---
Mission Statement
In accordance with Section 4-11 of the City Charter, the Mayor proposed a reorganization plan to the Alexandria City Council to streamline several city departments and offices in order to create the Division of Community Services. In March 1999, the City Council adopted the reorganization plan. This Division's stated goal in the Charter, adopted in 1974, was modified and expanded to reflect the change from a Department to a Division and is as follows: 
To enrich individuals and the community through the provision of services and effective coordination of programs in the following areas: 
1. Regranting 
2. Arts and Culture 
3. Alternative Youth and Adult Recreation Activities 
4. Education Advocacy 
5. Community Building 
6. Special Events And Projects
---
Function Description
All existing functions of the Division were assessed and new programs were and are developed based on those evaluations as well as current needs of the community. Division functions were and are streamlined to be more cost-efficient and responsive to other needs of the community, and to include citizen input when possible.
The Division of Community Services collaborates interdepartmentally and with other community agencies to fulfills its stated goal through the following existing or new/developing programs:
Worldwide Day of Play
Back to School Bash
How My City Works (school field trip)
Holiday Family Fun Night
Summer Splash
Community Events Calendar
Spring and Fall Outdoor Concert Series
Dinner on the Bricks
Holiday Magic
12 Nights of Christmas
Rock the Red on the 4th of July
Downtown Arts Collaborations
Youth Summer Camps
Holiday Art Camps
Family Fun Nights
Underwater Easter Egg Hunt
Youth Job Fair
Festivals
Holiday Art Camps
DownTown Rocks concerts
Homework Assistance Program
---
Translated with Google™ Translate