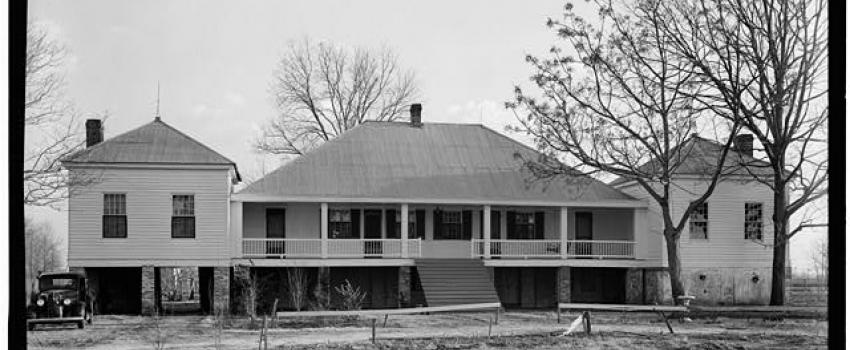 Image courtesy of the Library of Congress.
Our Culture
In 1769, the section of what is now Rapides Parish was deeded by France to Spain. The Alexandria site developed rapidly as a trading post, serving as a center of traffic between the French, Spanish, English, Americans and Native Americans. On October 1, 1800, Spain signed a treaty returning the land to France, and in 1803 it was sold to the United States as part of the Louisiana Purchase. It was then platted to Alexander Fulton, who obtained it as a land grant from Spain in 1785.
---
Crops in Alexandria
Alexandria became the hub of a rich farming and trading area as well as a cultural center, and many large plantations flourished. The Louisiana plantation culture first came into being along the state's rivers and bayous in the 18th century. Planters initially used the fertile soil for indigo and tobacco, but these crops were soon replaced by cotton in north Louisiana and sugar cane in the more tropical southern part of the state. Cotton was king in Louisiana and most of the Deep South during the antebellum period. Between 1840 and 1860 Louisiana's annual cotton crop rose from about 375,000 bales to nearly 800,000 bales. In 1860 Louisiana produced about one-sixth of all cotton grown in the United States and almost one-third of all cotton exported from the United States, most of which went to Britain and France. Almost all of the sugar grown in the United States during the antebellum period came from Louisiana. Louisiana produced from one-quarter to one-half of all sugar consumed in the United States. In any given year the combined crop of other sugar-producing states in the South was less than five percent of that of Louisiana. Louisiana's sugar harvest rose from 5,000 hogsheads (a large barrel that held an average of 1,000 pounds of sugar) in 1802 to a high of 449,000 hogsheads in 1853, peaking at an average price of $69 each in 1858, bringing the total value of Louisiana's sugar crop to $25 million.
---
Plantation Life
Sugar and cotton made the great mansions possible, but the designs of the homes came from as many directions as did the planters themselves. The first house type was the Creole Raised Cottage, whose core design came from the West Indies. Its great umbrella-like hipped roof came from Canada and its wide galleries and turned colonettes (slender wooden columns) were developed in Louisiana.
The earliest furnishings of the homes were made of oak or cypress by slaves on the plantations. Later, in prosperous years, European craftsmen came to Louisiana. European furnishings and art were imported through New Orleans and other ports. The plantation mansions of Louisiana still bear signs of efforts to make life in the new world as genteel and pleasant as possible. Many are surrounded by extensive formal gardens, and the approaches to some of the homes are lined with avenues of live oaks that are now huge in their old age. The Southern culture by nature is slow and relaxed and filled with prospertiy through hard work. The women were considered Southern Belles and the men were deemed to be fine Southern Gentlemen.
Louisiana's planters, both white and free black, were among the wealthiest in the South. Many planters were good businessmen, buying and selling crops and slaves at the best price. Slaves made up slightly less than half of Louisiana's total population. Nine out of ten slaves in Louisiana worked on rural farms and plantations.Slaves performed most of the manual, skilled, and domestic tasks on Louisiana plantations. Men and women labored in the fields and houses, the men specializing in skilled work and women assuming primary care of children. Most slaves worked from sunrise to sundown and beyond, although slaves often worked around the clock during the grinding season on sugar plantations.
Through perseverance, many slaves maintained stable families, although reluctantly permitted to take on partners at other plantations and rarely allowed to marry in formal church ceremonies. Familial ties were subjected to the whims and fortunes of the plantation master, who often broke up families by selling off unneeded members. Most planters, however, encouraged family formation, both to increase their holdings and to discourage adult slaves from running away from children and spouses. Slaves reinforced thier community ties by gathering together to eat, dance, sing, and tell stories. Through folklore and song, slaves passed down their collective historical memory from one generation to the next. Few masters allowed slaves to learn to read and write, and legislation passed in Louisiana in 1830 made teaching slaves to do so a crime. Slaves thus conveyed knowledge orally, just as their ancestors did in Africa and colonial Louisiana.
Translated with Google™ Translate