CPP presents comedy "Escaping the Labyrinth"
City Park Players bring new play "Escaping the Labyrinth" to Hearn Stage
City Park Players is thrilled to bring Escaping the Labyrinth, by Thomas Hischak, to Hearn Stage this year. Directed by Jim Weinzettle, Escaping the Labyrinth opens March 23 and features Mike White, Reade Spivey, Jill Dupont, Timberly Deville, Regan Amburgey, and Jeff Goelz.
ABOUT THE PLAY: Imagine meeting and even falling in love with one of the Greek gods or goddesses. "Escaping the Labyrinth" tells the story of Bud Schlieman, a young American professor who happens to meet one of the Greek gods while on a trip to Greece. During a conversation with him, one of the gods reveals themselves to him, and he sets out on a journey to meet the goddess Artemis. When he meets and falls in love with her, she runs away. He sets on a journey through the rest of the show to find her. Will he be able to find her?
Escaping the Labyrinth's Thomas Hischak was one of the winning playwrights of the 2022 AACT NewPlayFest. This production premiered October 15, 2021 at the Des Moines Community Playhouse to rave reviews.
Escaping the Labyrinth performances continue March 23-April 2 - Thursdays-Saturdays at 7:30pm; Sundays at 2:30pm on Hearn Stage in Downtown Alexandria.
Show dates:
Thursday, Mar 23 – 7:30pm
Friday, Mar 24 – 7:30pm
Saturday, Mar 25 – 7:30pm
Sunday, Mar 26 – 2:30pm
Thursday, Mar 30 – 7:30pm
Friday, Mar 31 – 7:30pm
Saturday, Apr 1 – 7:30pm
Sunday, Apr 2 – 2:30pm
Tickets:
Thursday : $5
General : $15
Senior (>60) & Military : $12
Students : $7
Tickets range from $5-15, and are on sale now at cpptheatre.com and will be available 30 minutes before each performance in the lobby of Kress Theatre.
For reservations and more, please email cityparkplayers@gmail.com or call 318-484-4478.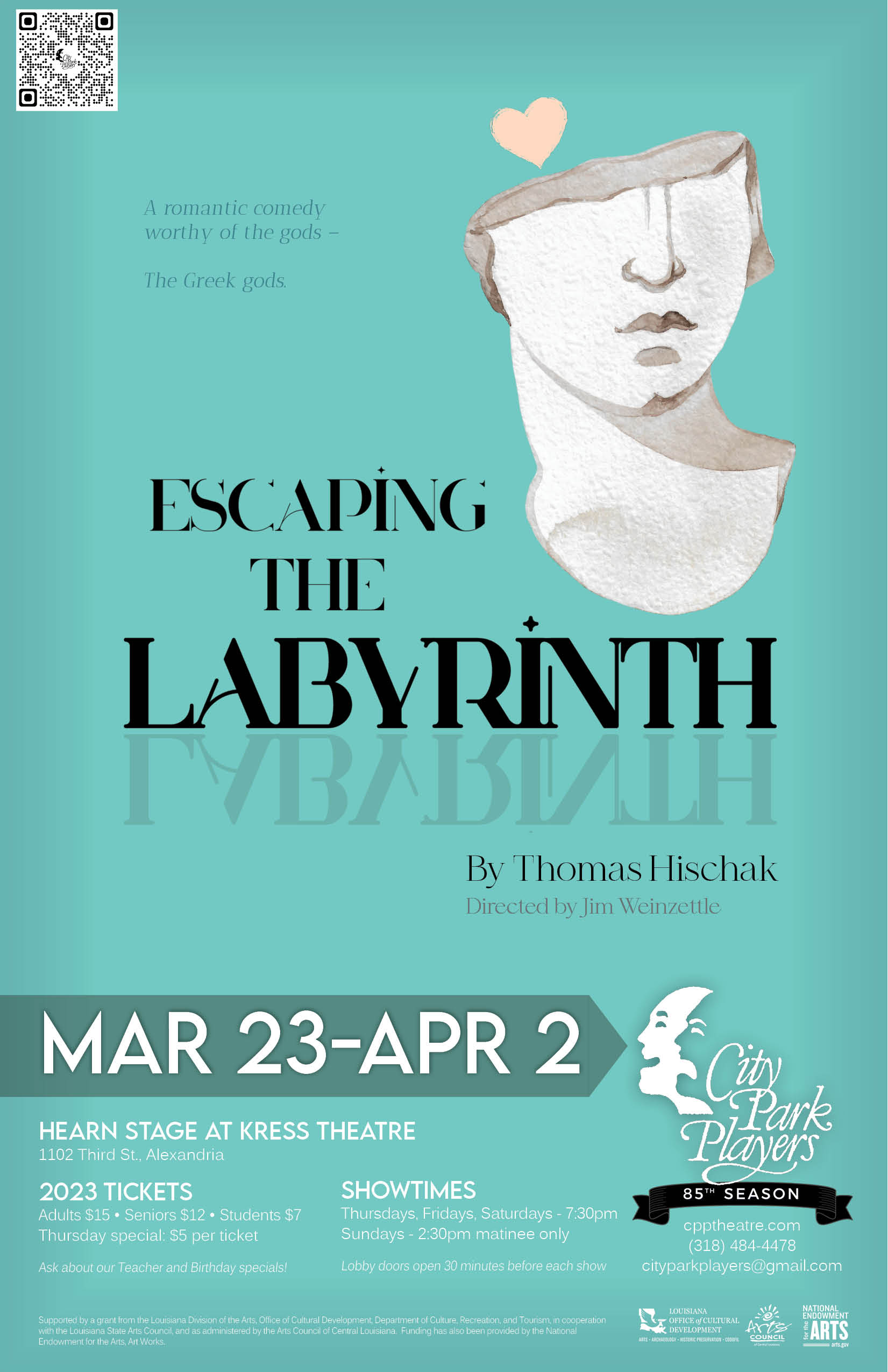 Event Date:
Repeats every week every Sunday and every Thursday and every Friday and every Saturday until Sun Apr 02 2023.
Thursday, March 23, 2023 - 7:30pm
Friday, March 24, 2023 - 7:30pm
Saturday, March 25, 2023 - 7:30pm
Sunday, March 26, 2023 - 7:30pm
Thursday, March 30, 2023 - 7:30pm
Friday, March 31, 2023 - 7:30pm
Saturday, April 1, 2023 - 7:30pm
Sunday, April 2, 2023 - 7:30pm
Address:
Alexandria
,
LA
71301-5244
United States