Alexandria Farmers Market
The Alexandria Farmers Market is a weekly gathering (every Tuesday, year round, 3-6 pm) that connects the community of Alexandria with the farmers, ranchers, and agricultural artisans of central Louisiana. This connection strives to improve the physical, social, and economic well-being of the region by providing access to fresh, healthy, local food for residents, fostering community relationships, and serving as a business incubator for growers and producers.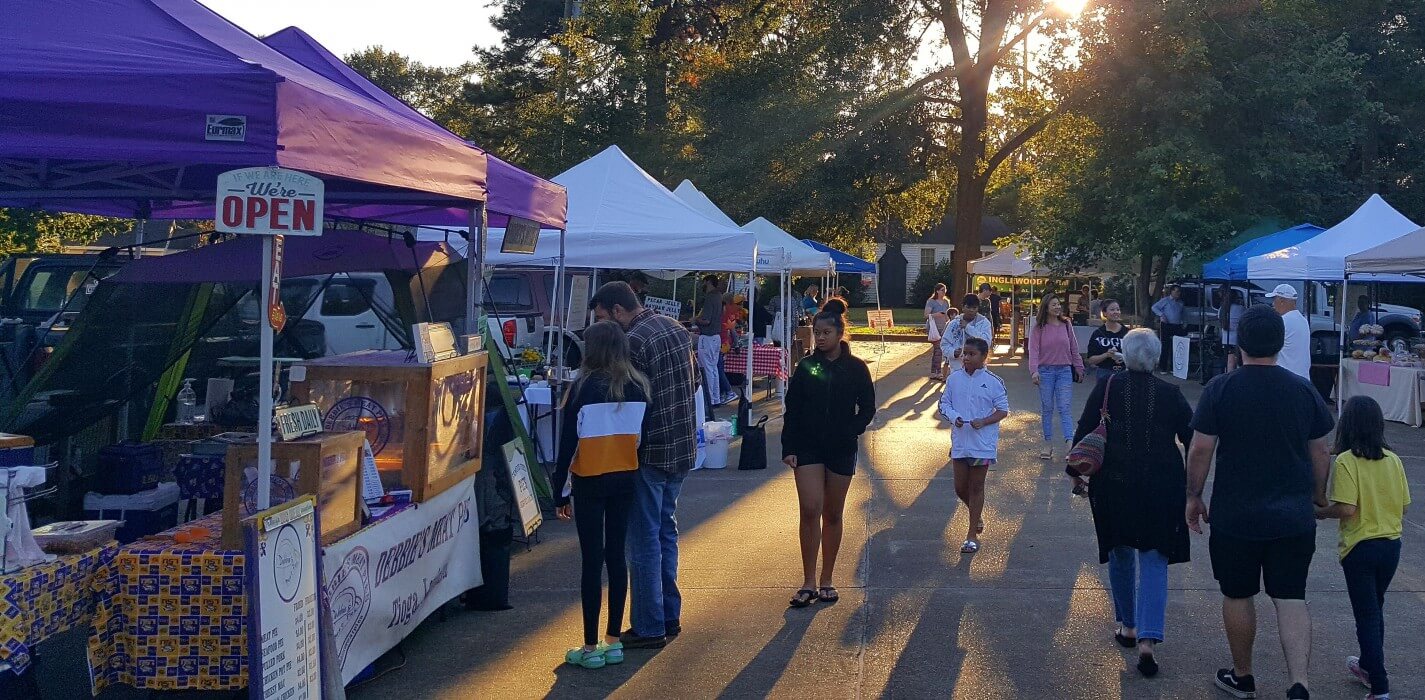 Event Date:
Repeats every week every Tuesday 52 times.
Tuesday, April 25, 2023 - 3:00pm
Tuesday, May 2, 2023 - 3:00pm
Tuesday, May 9, 2023 - 3:00pm
Tuesday, May 16, 2023 - 3:00pm
Tuesday, May 23, 2023 - 3:00pm
Tuesday, May 30, 2023 - 3:00pm
Tuesday, June 6, 2023 - 3:00pm
Tuesday, June 13, 2023 - 3:00pm
Tuesday, June 20, 2023 - 3:00pm
Tuesday, June 27, 2023 - 3:00pm
Tuesday, July 4, 2023 - 3:00pm
Tuesday, July 11, 2023 - 3:00pm
Tuesday, July 18, 2023 - 3:00pm
Tuesday, July 25, 2023 - 3:00pm
Tuesday, August 1, 2023 - 3:00pm
Tuesday, August 8, 2023 - 3:00pm
Tuesday, August 15, 2023 - 3:00pm
Tuesday, August 22, 2023 - 3:00pm
Tuesday, August 29, 2023 - 3:00pm
Tuesday, September 5, 2023 - 3:00pm
Tuesday, September 12, 2023 - 3:00pm
Tuesday, September 19, 2023 - 3:00pm
Tuesday, September 26, 2023 - 3:00pm
Tuesday, October 3, 2023 - 3:00pm
Tuesday, October 10, 2023 - 3:00pm
Tuesday, October 17, 2023 - 3:00pm
Tuesday, October 24, 2023 - 3:00pm
Tuesday, October 31, 2023 - 3:00pm
Tuesday, November 7, 2023 - 3:00pm
Tuesday, November 14, 2023 - 3:00pm
Tuesday, November 21, 2023 - 3:00pm
Tuesday, November 28, 2023 - 3:00pm
Tuesday, December 5, 2023 - 3:00pm
Tuesday, December 12, 2023 - 3:00pm
Tuesday, December 19, 2023 - 3:00pm
Tuesday, December 26, 2023 - 3:00pm
Tuesday, January 2, 2024 - 3:00pm
Tuesday, January 9, 2024 - 3:00pm
Tuesday, January 16, 2024 - 3:00pm
Tuesday, January 23, 2024 - 3:00pm
Tuesday, January 30, 2024 - 3:00pm
Tuesday, February 6, 2024 - 3:00pm
Tuesday, February 13, 2024 - 3:00pm
Tuesday, February 20, 2024 - 3:00pm
Tuesday, February 27, 2024 - 3:00pm
Tuesday, March 5, 2024 - 3:00pm
Tuesday, March 12, 2024 - 3:00pm
Tuesday, March 19, 2024 - 3:00pm
Tuesday, March 26, 2024 - 3:00pm
Tuesday, April 2, 2024 - 3:00pm
Tuesday, April 9, 2024 - 3:00pm
Tuesday, April 16, 2024 - 3:00pm