"Perfect Wedding" comedy-matinee
Perfect Wedding – by Robin Hawdon
February 17-27, 2022
Farce, Romantic Comedy
An appalling situation. A bridegroom wakes on his wedding morning in his own bridal suite, with his bride-to-be about to arrive any moment, and finds a strange girl in bed beside him. The only way out of the dilemma is to persuade the best man to pretend that the hidden girl is his girl friend.
By the time the bride's parents and half the hotel staff get in on the act, the chaos reaches nuclear proportions! You'll be rolling in the aisles with laughter at this 'Perfect Wedding'!
DIRECTED BY: Jill Dupont & Jim Weinzettle
CAST: Craig Jones (Bill), Hunter Andries (Tom), Torie Nugent-Peterson (Rachel), Donya Crawford (Daphne), Sarah Laborde (Julie), Meredith Peterson (Judy)
SHOW DATES & TIMES
Thursday, Feb 17 – 7:30pm
Friday, Feb 18 – 7:30pm
Saturday, Feb 19 – 7:30pm
Sunday, Feb 20 – 2:30pm
Thursday, Feb 24 – 7:30pm
Friday, Feb 25 – 7:30pm
Saturday, Feb 26 – 7:30pm
Sunday, Feb 27 – 2:30pm
TICKETS
Thursday : $5
General : $15
Senior (>60) & Military : $12
Students : $7
Tickets can be purchased at cpptheatre.com. Tickets will also be available in the box office before each show; Doors open 30 minutes before each show. For more information, please contact us at: cityparkplayers@gmail.com or call 318-484-4478.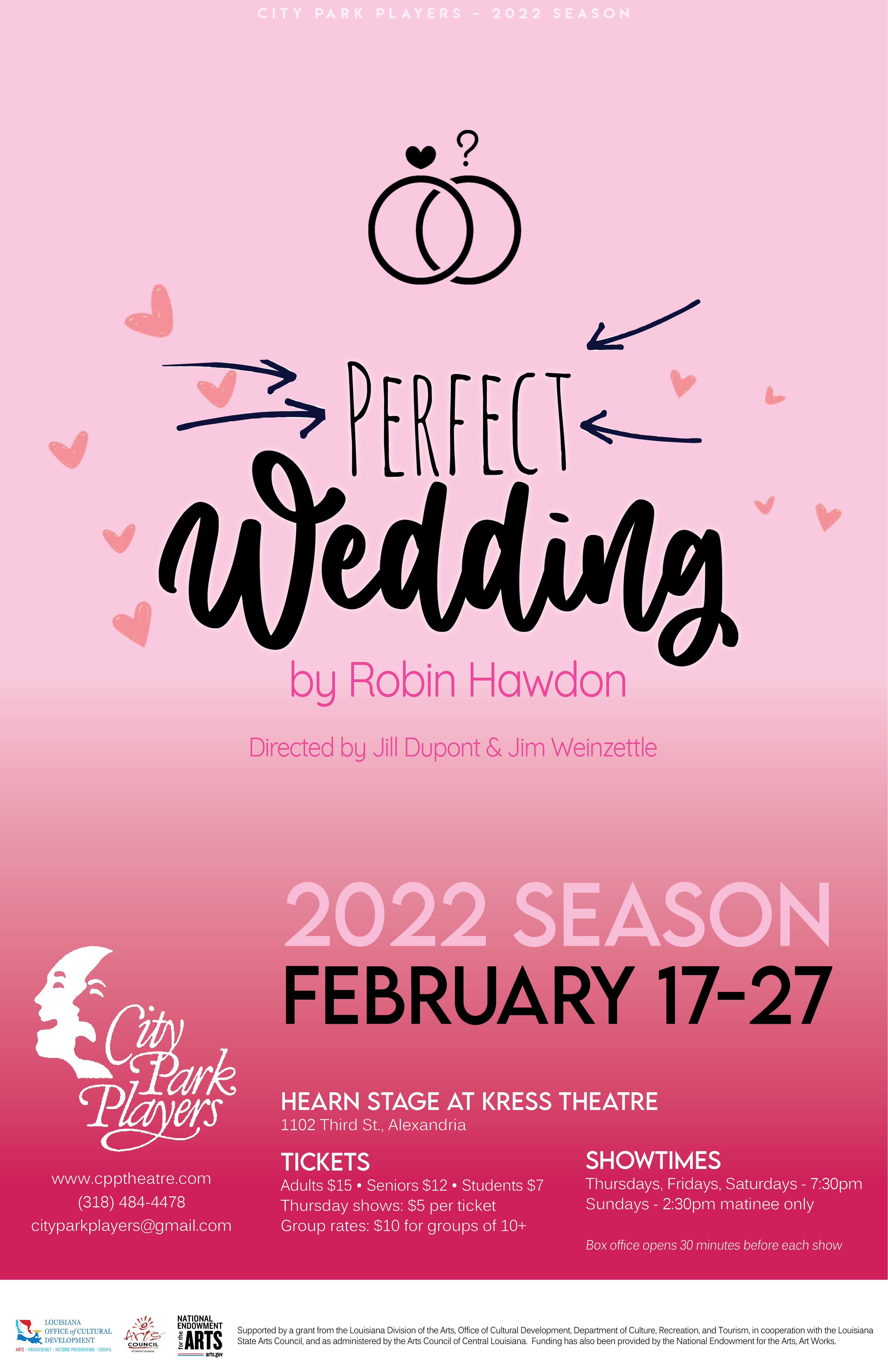 Event Date:
Repeats every week every Sunday 2 times.
Sunday, February 20, 2022 - 2:30pm
Sunday, February 27, 2022 - 2:30pm
Location:
Hearn Stage at the Kress Theatre