Louiaiana Drug Epidemic Walk Alexandria
Millie Mattered Overdose and Addiction Advocacy is Set once again to host the Louisiana Drug Epidemic Walk across the state of Louisiana.
I started Millie Mattered in 2017 after I lost my 28-year-old daughter, Millie to a fentanyl overdose. I tried to reach out to other grieving parents that might be going through the same emotional turmoil and I found there was no advocacy in my area. I knew I had to find a way to bring awareness to this epidemic in our state, and Millie Mattered was born. 
That was five years ago and many events under my wings. Now, once again, Millie Mattered is joining forces with the National Campaign out of Las Vegas Nevada to hold these walks. These epidemic walks will feature over 27 banners of over 4000 faces gone too soon. Also, we recognize loved ones who are left to grieve and let them know that there are others like them. We want them to know they have an avenue for support.   
We invite, and encourage, those in the healthcare profession, the recovery community, law officers, and all public officials to come out and support our Advocacy. This past year Louisiana had the highest increase in overdose per capita in the nation. We have a problem, and it must be addressed. We are losing a generation of our 20 to 30 year old's. One person can make a difference but many can make a change! Millie Mattered and so did the thousands of lives lost to the Drug epidemic in our State.   
Please go to my Facebook page Millie Mattered for more information on my advocacy . You can contact me on Facebook messenger, or email me milliemattered@gmail.com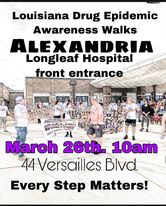 Event Date:
Saturday, March 26, 2022 - 2:00pm
Location:
Longleaf Hospital 44 Versailles BLVD