City Park Players presents "Becky Shaw"
City Park Players is happy to bring Gina Gionfriddo's comic drama Becky Shaw to Hearn Stage this September. Directed by Jared Guillory, this comedy opens Thursday, September 1 on Hearn Stage and features Halli Watson, Steven Byone, Melissa Savage, Regan Amburgey, and Jared Guillory.
In this Pulitzer Prize finalist by award-winning playwright Gina Gionfriddo, Suzanna sets up Max, her best friend, on a blind date with her husband's co-worker, the mysterious Becky Shaw. What follows is a series of cataclysmic events that changes their lives. Mixing sharp wit and humor with the taut suspense of a psychological thriller, the critically acclaimed Becky Shaw is a comedy of romantic errors that will keep audiences guessing! NOTE: Strong Language
Becky Shaw is CPP's Richard Gwartney Series Selection for 2022. The Richard Gwartney Series are annual productions inspired by the Cabaret Season he instituted as Artistic Director of CPP.
Becky Shaw performances continue September 1-11 - Thursdays-Saturdays at 7:30pm; Sundays at 2:30pm on Hearn Stage in Downtown Alexandria. Advance tickets range from $5-15, and are on sale now at cpptheatre.com. Tickets will also be available 30 minutes before each performance in the lobby of Kress Theatre.
For reservations and more, please email cityparkplayers@gmail.com or call 318-484-4478.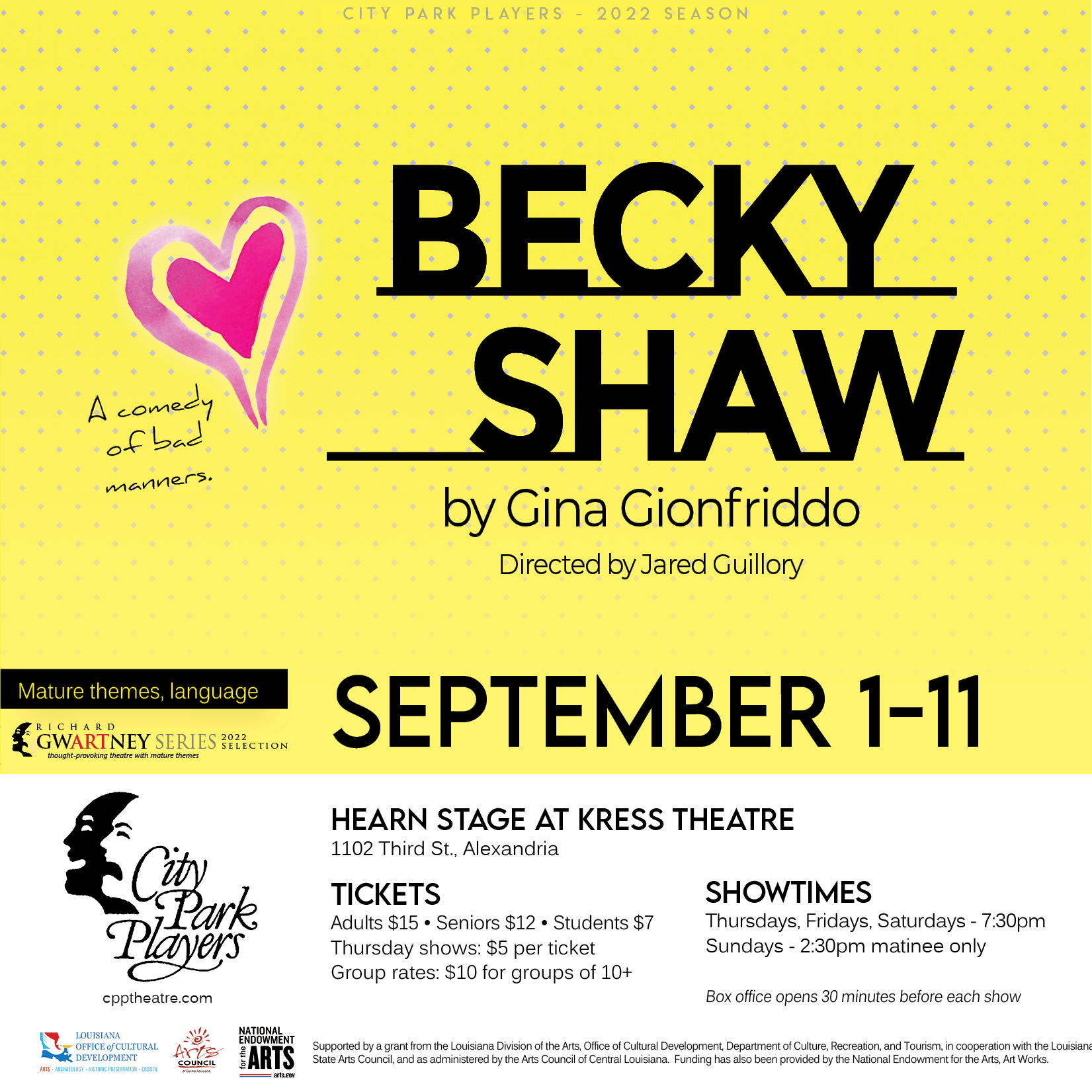 Event Date:
Repeats every week every Sunday and every Thursday and every Friday and every Saturday 8 times.
Thursday, September 1, 2022 - 7:30pm
Friday, September 2, 2022 - 7:30pm
Saturday, September 3, 2022 - 7:30pm
Sunday, September 4, 2022 - 7:30pm
Thursday, September 8, 2022 - 7:30pm
Friday, September 9, 2022 - 7:30pm
Saturday, September 10, 2022 - 7:30pm
Sunday, September 11, 2022 - 7:30pm
Location:
Hearn Stage at the Kress Theatre