Red River Chorale concert: "Hope and Restoration"
Red River Chorale Returns
After a two-year Covid-induced silence, the Red River Chorale is BACK!
Mark your calendars for the return of the Red River Chorale on Thursday, May 26, 2022, when they will perform a concert for these times, titled "Hope and Restoration." The Artistic Director for this concert is Jacob Wittkopp, Fine Arts Chair and Director of Choirs at Louisiana Christian University. Mr. Wittkopp is a native of Montana, with Music degrees from Montana State University and the University of Montana, and he is currently a D.M.A. candidate at Boston University. He brings a broad range of valuable experiences in performance, direction, composition, and music education, and he enjoys a wide range of choral traditions.
In "Hope and Restoration," the musical selections acknowledge the losses many have recently endured and celebrate the hope in the hearts of all for the restoration of peace in our lives and in the world. This eclectic concert includes an assortment of styles including 19th-century standards, spirituals, and pieces written during the pandemic. From Johannes Brahms to Alice Parker, and from traditional spirituals to Ralph Vaughn Williams, the listener will be touched, moved, and uplifted.
"Hope and Restoration" will be performed at 7:30 P.M. on Thursday evening, May 26, 2022, at St. Francis Cathedral in downtown Alexandria. There will be a reception afterward in Xavier Hall for all in attendance. Tickets are $15 for adults and $5 for students and are available at the Chorale's website: redriverchorale.com .
.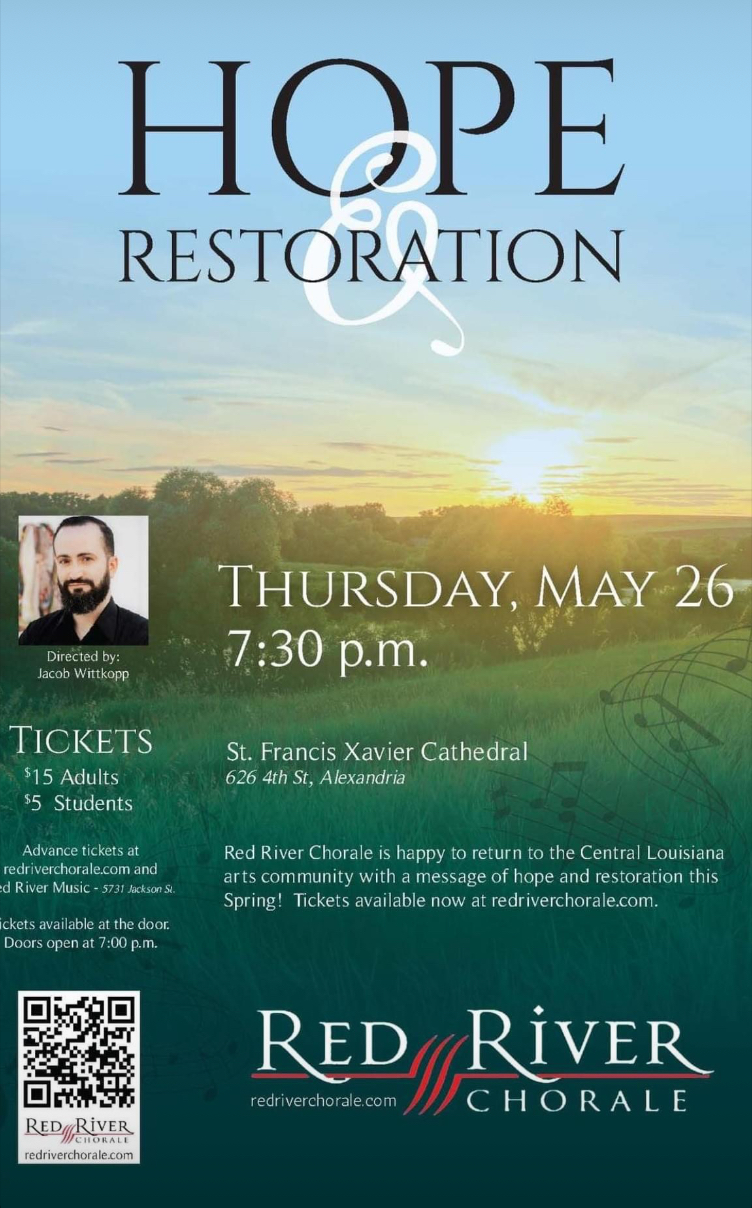 Event Date:
Thursday, May 26, 2022 - 7:30pm
Location:
St. Francis Xavier Cathedral, 626 Fourth Street, Alexandria, LA