Saturday Morning Qi Gong at AMoA
As part of the Healthy Living @AMoA programming, sponsored by Rapides Regional Medical Center, the Levee Tai Chi School is proud to offer free Qi Gong every Saturday morning in the Museum's 3rd Floor Gallery.
WHAT IS QI GONG?
Originating in ancient China roughly four thousand years ago, Qi Gong or Qigong (pronounced Chee Gong, literally "Life Energy Cultivation") is an ancient system of coordinated body postures and movements combined with deep breathing and meditation. It is a powerful tool used to stimulate good health, spirituality, and a state of calm mindfulness.
Qi Gong draws from Chinese medicine, philosophy, and even martial arts. It is traditionally viewed as a means of balancing and cultivating qi, the "life energy" that pervades all living things. Like Tai Chi Chuan, it has been described as a "moving meditation," akin to walking meditation practices although depending on the form, most Qi Gong practices are performed without excessive walking.
ABOUT THE INSTRUCTOR: Lao Shi Paul L. Nettles was first trained in the form in 2011 by the American Kung Fu Academy in Alexandria—three years later he was awarded accreditation as a Lao Shi, Mandarin for "elder teacher," in Professor Chen Man Ching's 37 Posture Yang Style Short Form Tai Chi Chuan, Tai Chi sword form, and in the Eight Pieces of Brocade Silk Qi Gong form. Paul has hosted a Morning Tai Chi on The Levee school since 2013. He also teaches privately.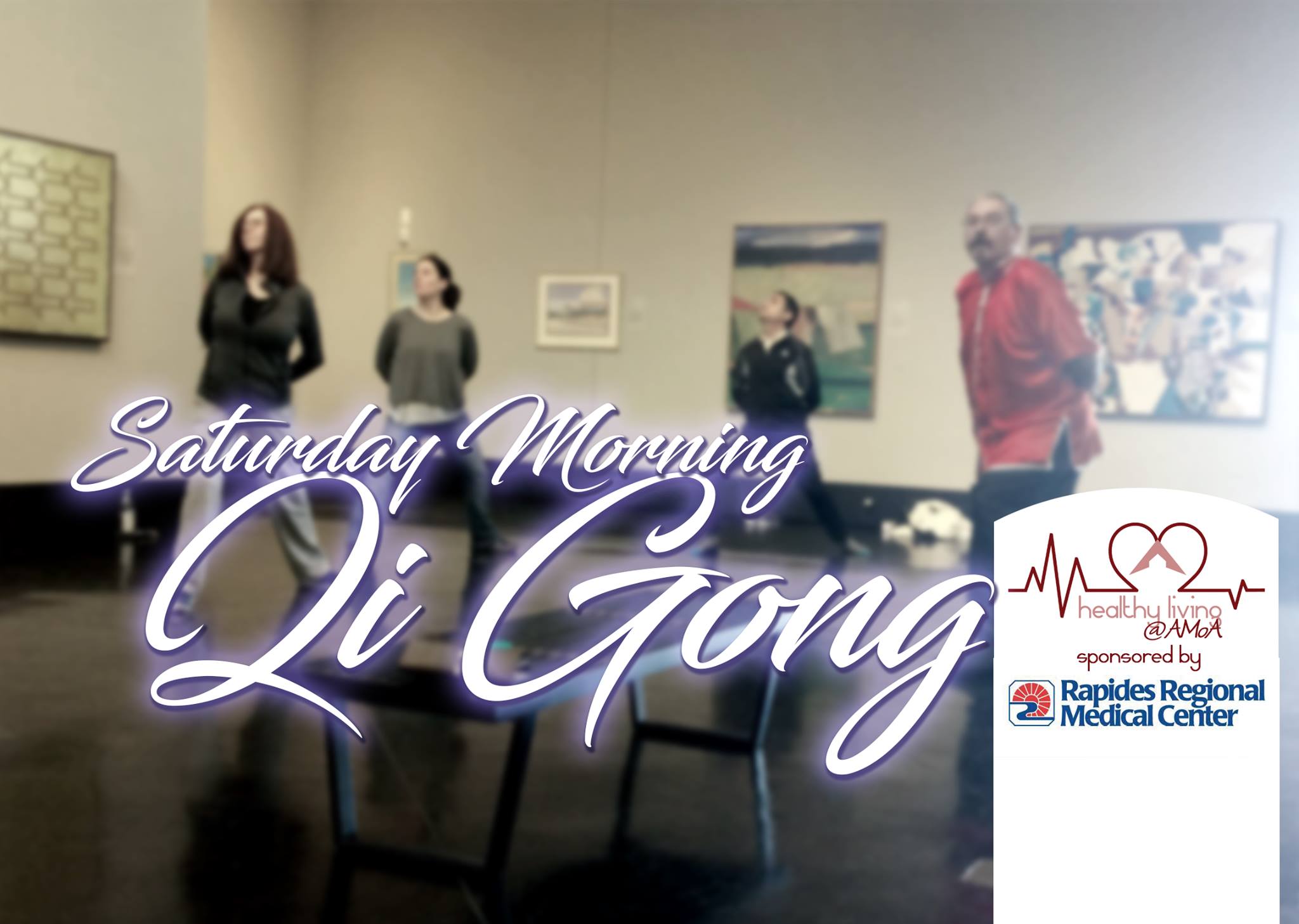 Event Date:
Repeats every week every Saturday 52 times.
Saturday, January 19, 2019 - 10:30am
Saturday, January 26, 2019 - 10:30am
Saturday, February 2, 2019 - 10:30am
Saturday, February 9, 2019 - 10:30am
Saturday, February 16, 2019 - 10:30am
Saturday, February 23, 2019 - 10:30am
Saturday, March 2, 2019 - 10:30am
Saturday, March 9, 2019 - 10:30am
Saturday, March 16, 2019 - 10:30am
Saturday, March 23, 2019 - 10:30am
Saturday, March 30, 2019 - 10:30am
Saturday, April 6, 2019 - 10:30am
Saturday, April 13, 2019 - 10:30am
Saturday, April 20, 2019 - 10:30am
Saturday, April 27, 2019 - 10:30am
Saturday, May 4, 2019 - 10:30am
Saturday, May 11, 2019 - 10:30am
Saturday, May 18, 2019 - 10:30am
Saturday, May 25, 2019 - 10:30am
Saturday, June 1, 2019 - 10:30am
Saturday, June 8, 2019 - 10:30am
Saturday, June 15, 2019 - 10:30am
Saturday, June 22, 2019 - 10:30am
Saturday, June 29, 2019 - 10:30am
Saturday, July 6, 2019 - 10:30am
Saturday, July 13, 2019 - 10:30am
Saturday, July 20, 2019 - 10:30am
Saturday, July 27, 2019 - 10:30am
Saturday, August 3, 2019 - 10:30am
Saturday, August 10, 2019 - 10:30am
Saturday, August 17, 2019 - 10:30am
Saturday, August 24, 2019 - 10:30am
Saturday, August 31, 2019 - 10:30am
Saturday, September 7, 2019 - 10:30am
Saturday, September 14, 2019 - 10:30am
Saturday, September 21, 2019 - 10:30am
Saturday, September 28, 2019 - 10:30am
Saturday, October 5, 2019 - 10:30am
Saturday, October 12, 2019 - 10:30am
Saturday, October 19, 2019 - 10:30am
Saturday, October 26, 2019 - 10:30am
Saturday, November 2, 2019 - 10:30am
Saturday, November 9, 2019 - 10:30am
Saturday, November 16, 2019 - 10:30am
Saturday, November 23, 2019 - 10:30am
Saturday, November 30, 2019 - 10:30am
Saturday, December 7, 2019 - 10:30am
Saturday, December 14, 2019 - 10:30am
Saturday, December 21, 2019 - 10:30am
Saturday, December 28, 2019 - 10:30am
Saturday, January 4, 2020 - 10:30am
Saturday, January 11, 2020 - 10:30am