Jeeves in Bloom
adapted by Margaret Raether
COMEDY
The peaceful English countryside may never be the same after Bertie Wooster and his unflappable valet, Jeeves, pay a visit. What starts as a plan to pair tongue-tied, amphibian-loving Augustus Fink-Nottle and fanciful, poetry-loving Madeline Basset quickly goes awry.
Soon, Bertie is fending off Madeline's amorous advances, reluctantly participating in an attempted burglary, and fleeing attacks from a homicidal French chef. With the stakes this high, the solution must lie with the one and only Jeeves!
Directed by:
Mike White
and
Alana Pate
Cast:
Bertram "Bertie" Wilberfore Wooster: Jay Purdy
Jeeves: Bob Savage
Dahlia Travers: Kim Patton
Thomas Portarlington Travers: Jim Smilie
Augustus "Gussie" Fink-Nottle: Craig Jones
Madeline Basset: Meredith Peterson
Anatole: Stewart Riggar
Hearn Stage at the Kress Theatre
January 31 - February 10
Thur-Sat at 7:30PM
Sunday at 2:30PM
Ticket Pricing:
Thursday : $5
General : $15
Senior (>60) & Military : $12
Students : $7
To purchase tickets in advance, visit our website at: cpptheatre.com
Tickets will be available 30 minutes before each performance in the Kress Theatre box office.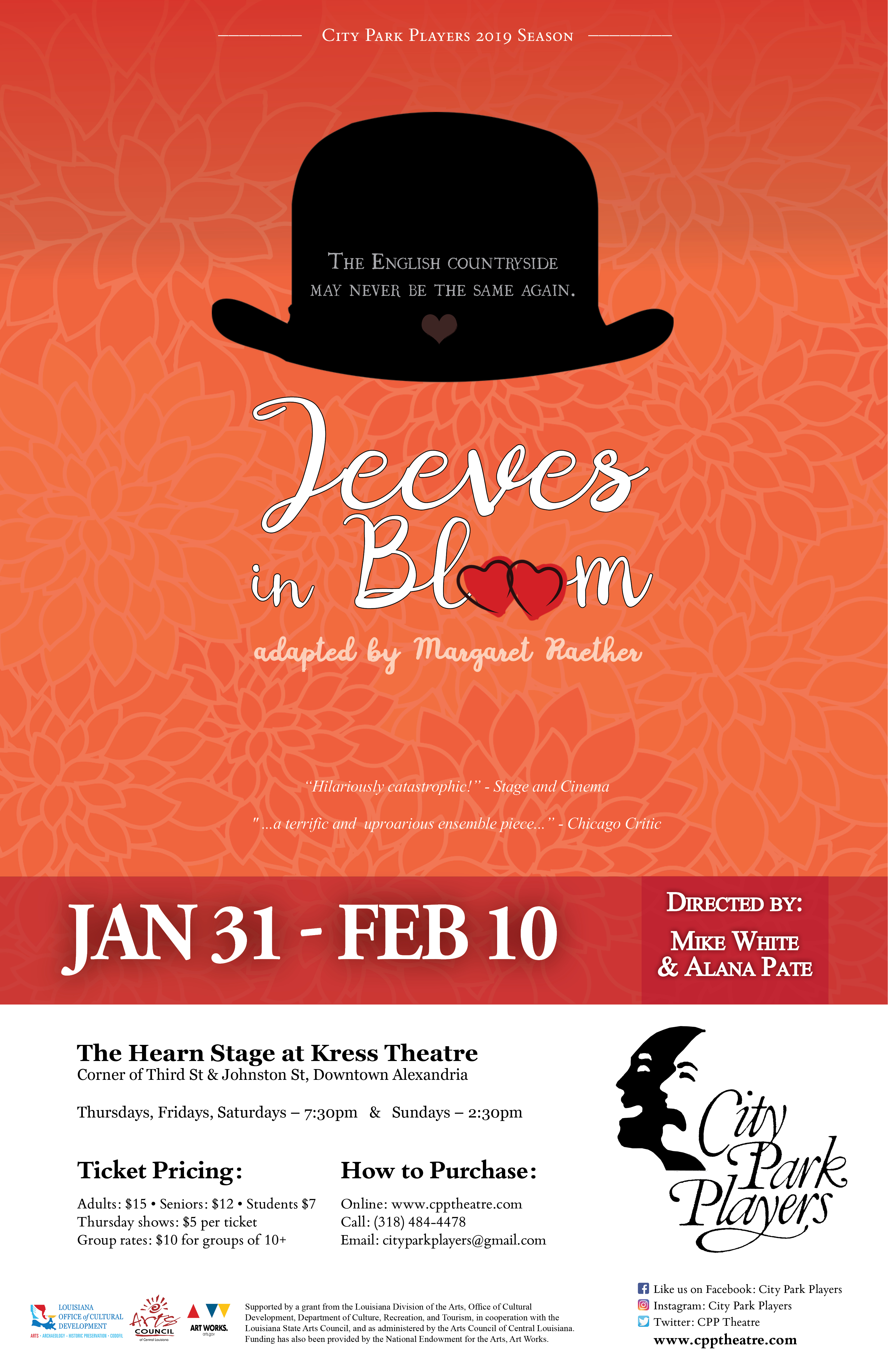 Event Date:
Repeats every day 3 times.
Thursday, January 31, 2019 - 7:30pm
Friday, February 1, 2019 - 7:30pm
Saturday, February 2, 2019 - 7:30pm
Location:
Hearn Stage at the Kress Theatre
Address:
1101 4th ST, Ste 201 - Box 6
United States