Free Yoga in the Gallery: Healthy Living @AMoA
Sponsored by Rapides Regional Medical Center.
In 2017, Shannon Brewer, of LUX Studios - Lotus Vibes in the Downtown Holiday Inn, came on, and began to oversee "Yoga in the Gallery".
Shannon teaches" Yoga in the Gallery"regularly, but has also enlisted new recruits from the growing number of new Yoga instructors in the community, giving them much needed hours for their certifications. This also allows participants exposure to different instructor styles.
All Healthy Living @AMoA programs are free and open to the public.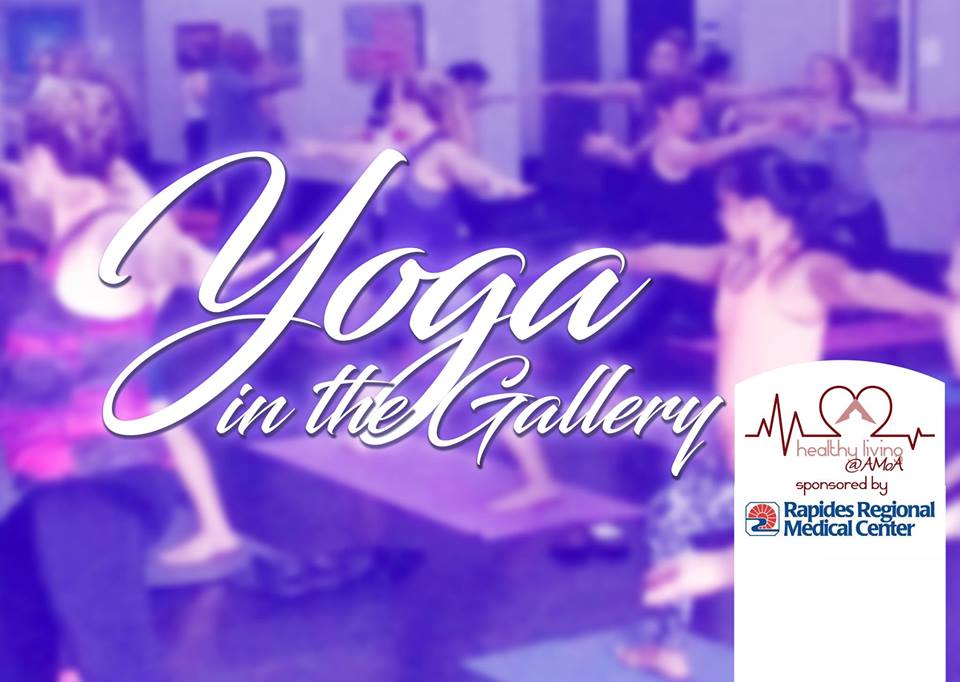 Event Date:
Repeats every week every Tuesday 52 times.
Tuesday, January 22, 2019 - 5:45pm
Tuesday, January 29, 2019 - 5:45pm
Tuesday, February 5, 2019 - 5:45pm
Tuesday, February 12, 2019 - 5:45pm
Tuesday, February 19, 2019 - 5:45pm
Tuesday, February 26, 2019 - 5:45pm
Tuesday, March 5, 2019 - 5:45pm
Tuesday, March 12, 2019 - 5:45pm
Tuesday, March 19, 2019 - 5:45pm
Tuesday, March 26, 2019 - 5:45pm
Tuesday, April 2, 2019 - 5:45pm
Tuesday, April 9, 2019 - 5:45pm
Tuesday, April 16, 2019 - 5:45pm
Tuesday, April 23, 2019 - 5:45pm
Tuesday, April 30, 2019 - 5:45pm
Tuesday, May 7, 2019 - 5:45pm
Tuesday, May 14, 2019 - 5:45pm
Tuesday, May 21, 2019 - 5:45pm
Tuesday, May 28, 2019 - 5:45pm
Tuesday, June 4, 2019 - 5:45pm
Tuesday, June 11, 2019 - 5:45pm
Tuesday, June 18, 2019 - 5:45pm
Tuesday, June 25, 2019 - 5:45pm
Tuesday, July 2, 2019 - 5:45pm
Tuesday, July 9, 2019 - 5:45pm
Tuesday, July 16, 2019 - 5:45pm
Tuesday, July 23, 2019 - 5:45pm
Tuesday, July 30, 2019 - 5:45pm
Tuesday, August 6, 2019 - 5:45pm
Tuesday, August 13, 2019 - 5:45pm
Tuesday, August 20, 2019 - 5:45pm
Tuesday, August 27, 2019 - 5:45pm
Tuesday, September 3, 2019 - 5:45pm
Tuesday, September 10, 2019 - 5:45pm
Tuesday, September 17, 2019 - 5:45pm
Tuesday, September 24, 2019 - 5:45pm
Tuesday, October 1, 2019 - 5:45pm
Tuesday, October 8, 2019 - 5:45pm
Tuesday, October 15, 2019 - 5:45pm
Tuesday, October 22, 2019 - 5:45pm
Tuesday, October 29, 2019 - 5:45pm
Tuesday, November 5, 2019 - 5:45pm
Tuesday, November 12, 2019 - 5:45pm
Tuesday, November 19, 2019 - 5:45pm
Tuesday, November 26, 2019 - 5:45pm
Tuesday, December 3, 2019 - 5:45pm
Tuesday, December 10, 2019 - 5:45pm
Tuesday, December 17, 2019 - 5:45pm
Tuesday, December 24, 2019 - 5:45pm
Tuesday, December 31, 2019 - 5:45pm
Tuesday, January 7, 2020 - 5:45pm
Tuesday, January 14, 2020 - 5:45pm