Rapides Parish Library 2018 Summer Reading Program!
Traditionally, summer reading programs are designed to encourage school-aged children to keep reading during summer vacation. Preventing the "Summer Slide" is the main objective of the summer reading programs. For many families with school-aged children, the public library is the only community space during the summer months where they can access free educational and cultural activities and programs.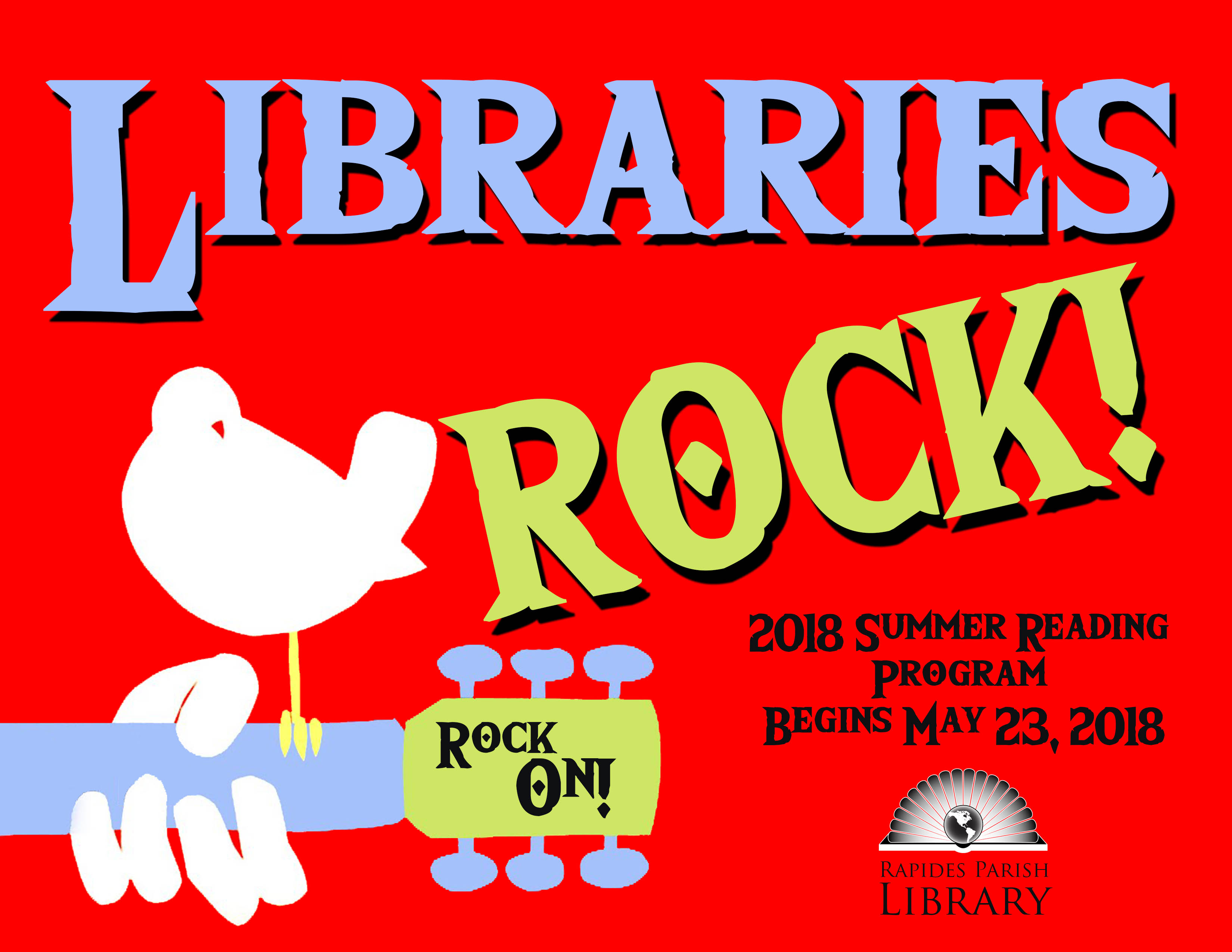 Event Date:
Repeats every day until Fri Jul 27 2018.
Wednesday, May 23, 2018 -

9:00am

to

6:00pm
Thursday, May 24, 2018 -

9:00am

to

6:00pm
Friday, May 25, 2018 -

9:00am

to

6:00pm
Saturday, May 26, 2018 -

9:00am

to

6:00pm
Sunday, May 27, 2018 -

9:00am

to

6:00pm
Monday, May 28, 2018 -

9:00am

to

6:00pm
Tuesday, May 29, 2018 -

9:00am

to

6:00pm
Wednesday, May 30, 2018 -

9:00am

to

6:00pm
Thursday, May 31, 2018 -

9:00am

to

6:00pm
Friday, June 1, 2018 -

9:00am

to

6:00pm
Saturday, June 2, 2018 -

9:00am

to

6:00pm
Sunday, June 3, 2018 -

9:00am

to

6:00pm
Monday, June 4, 2018 -

9:00am

to

6:00pm
Tuesday, June 5, 2018 -

9:00am

to

6:00pm
Wednesday, June 6, 2018 -

9:00am

to

6:00pm
Thursday, June 7, 2018 -

9:00am

to

6:00pm
Friday, June 8, 2018 -

9:00am

to

6:00pm
Saturday, June 9, 2018 -

9:00am

to

6:00pm
Sunday, June 10, 2018 -

9:00am

to

6:00pm
Monday, June 11, 2018 -

9:00am

to

6:00pm
Tuesday, June 12, 2018 -

9:00am

to

6:00pm
Wednesday, June 13, 2018 -

9:00am

to

6:00pm
Thursday, June 14, 2018 -

9:00am

to

6:00pm
Friday, June 15, 2018 -

9:00am

to

6:00pm
Saturday, June 16, 2018 -

9:00am

to

6:00pm
Sunday, June 17, 2018 -

9:00am

to

6:00pm
Monday, June 18, 2018 -

9:00am

to

6:00pm
Tuesday, June 19, 2018 -

9:00am

to

6:00pm
Wednesday, June 20, 2018 -

9:00am

to

6:00pm
Thursday, June 21, 2018 -

9:00am

to

6:00pm
Friday, June 22, 2018 -

9:00am

to

6:00pm
Saturday, June 23, 2018 -

9:00am

to

6:00pm
Sunday, June 24, 2018 -

9:00am

to

6:00pm
Monday, June 25, 2018 -

9:00am

to

6:00pm
Tuesday, June 26, 2018 -

9:00am

to

6:00pm
Wednesday, June 27, 2018 -

9:00am

to

6:00pm
Thursday, June 28, 2018 -

9:00am

to

6:00pm
Friday, June 29, 2018 -

9:00am

to

6:00pm
Saturday, June 30, 2018 -

9:00am

to

6:00pm
Sunday, July 1, 2018 -

9:00am

to

6:00pm
Monday, July 2, 2018 -

9:00am

to

6:00pm
Tuesday, July 3, 2018 -

9:00am

to

6:00pm
Wednesday, July 4, 2018 -

9:00am

to

6:00pm
Thursday, July 5, 2018 -

9:00am

to

6:00pm
Friday, July 6, 2018 -

9:00am

to

6:00pm
Saturday, July 7, 2018 -

9:00am

to

6:00pm
Sunday, July 8, 2018 -

9:00am

to

6:00pm
Monday, July 9, 2018 -

9:00am

to

6:00pm
Tuesday, July 10, 2018 -

9:00am

to

6:00pm
Wednesday, July 11, 2018 -

9:00am

to

6:00pm
Thursday, July 12, 2018 -

9:00am

to

6:00pm
Friday, July 13, 2018 -

9:00am

to

6:00pm
Saturday, July 14, 2018 -

9:00am

to

6:00pm
Sunday, July 15, 2018 -

9:00am

to

6:00pm
Monday, July 16, 2018 -

9:00am

to

6:00pm
Tuesday, July 17, 2018 -

9:00am

to

6:00pm
Wednesday, July 18, 2018 -

9:00am

to

6:00pm
Thursday, July 19, 2018 -

9:00am

to

6:00pm
Friday, July 20, 2018 -

9:00am

to

6:00pm
Saturday, July 21, 2018 -

9:00am

to

6:00pm
Sunday, July 22, 2018 -

9:00am

to

6:00pm
Monday, July 23, 2018 -

9:00am

to

6:00pm
Tuesday, July 24, 2018 -

9:00am

to

6:00pm
Wednesday, July 25, 2018 -

9:00am

to

6:00pm
Thursday, July 26, 2018 -

9:00am

to

6:00pm
Friday, July 27, 2018 -

9:00am

to

6:00pm
Location:
All Locations of the Rapides Parish Library