A-Town Evenings: Smithfield Fair
Smithfield Fair returns to the A-Town Evenings stage on Friday, May 11, 2018. Tickets are $15.
For over four decades, the focus of Smithfield Fair has been harmony, vocals, and original songs deftly placed over acoustic instrumentation. Smithfield Fair has presented its heartfelt original music and arrangements of traditional songs across the United States on concert and festival stages; in historic venues and theatres; at large events such as the World's Fair, New Orleans Jazz & Heritage Festival and Kerrville Folk Festival; as well as in the most intimate coffeehouses, cafes and house concerts. Flowers In Her Hair, Longships, James of the Glen, God Never Sleeps, Flying High and other Smithfield Fair songs have become popular internationally through constant radio, satellite and internet airplay. Smithfield Fair continues to be a true original, creating hopeful and imaginative songs, and performing them with passion, honesty and humor.
Purchase tickets at the door or online at www.Ticket-Central.org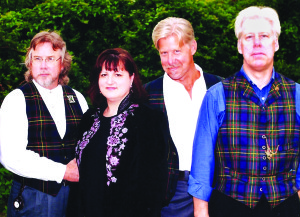 Event Date:
Friday, May 11, 2018 - 7:00pm
Location:
Coughlin-Saunders Performing Arts Center