Arts Council of Central Louisiana presents Shana Tucker
Shana Tucker is a singer-songwriter and cellist who credits her genre-bending ChamberSoul™ journey to the influences of her jazz and classical roots interwoven with 80's & 90's pop music, movie soundtracks, and world music.
Touted by JazzTimes Magazine as "a jazz talent…whose imprint and vitality has already been quite visible in North Carolina," Shana's style and sound as been described as a mash-up of Dianne Reeves, Joni Mitchell, and Tracy Chapman, with an efficient complexity that is reminiscent of Bill Withers. ChamberSoul™ best describes what the listener should expect when experiencing Shana's music. "I'm intrinsically drawn to "real" instruments, with resonance, tone and depth that can sound without amplification. Whenever and however possible, I always try to set a tone of acoustic intimacy with my colleagues on stage, and also with the audience, so that the music, performers and audience feel close and tangible, no matter the size the venue."
Growing up on Long Island, NY, Shana began taking piano lessons with her great-grandmother at home while discovering violin in fourth grade, later switching to cello in junior high school.
A beneficiary of public school arts education, Shana's cello talents awarded her a scholarship to Howard University in Washington, DC, where she was first introduced to jazz and a wealth of essential musical resources in faculty, peers, visiting artists and the community at-large. While at Howard, Shana initiated her improvisation chops and honed her songwriting skills as a member of HUE, a singing piano trio that received critical acclaim within the DC music scene in the mid-1990's, and later on, in New York City, where she completed her cello studies at CUNY-Brooklyn College Conservatory of Music before moving to North Carolina to raise her son.
Don't miss Shana performing live at Coughlin-Saunders Performing Arts Center on Thursday, February 8th at 7:00 PM. Tickets are $15 for adults, $12 for seniors (65+), $10 for students, and $40 for a family (2 adults and 2 children). Please note that tickets will increase by $5 at the door.
Purchase tickets at www.ticket-central.org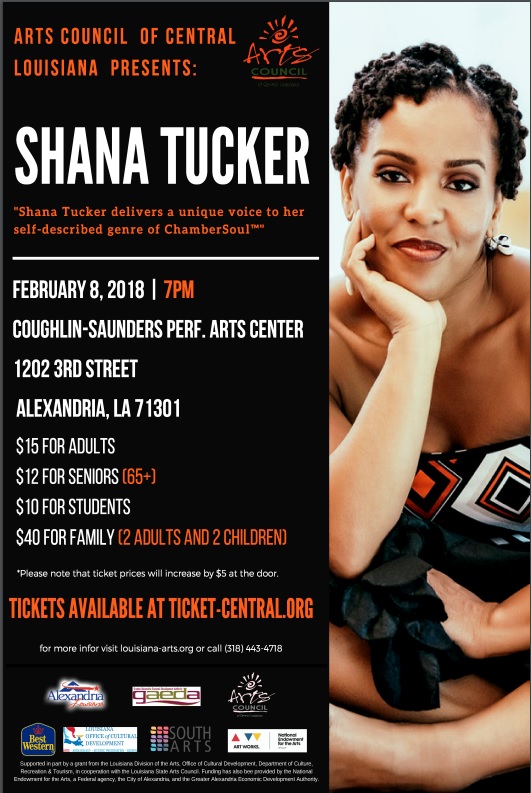 Event Date:
Thursday, February 8, 2018 - 7:00pm
Location:
Coughlin-Saunders Performing Arts Center